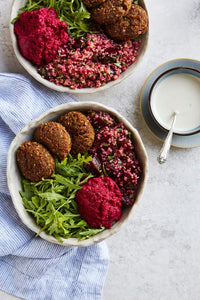 Beetroot Hummus
This beetroot hummus is a delicious variation to a traditional hummus. I usually like serving it as a spread, a vegetable dip or even as a side when I make roast chicken. I roast the beetroot to give my hummus a delicious roasted flavour and I peel my chickpeas for a wonderful creamy texture. To make a traditional version of the hummus, simply skip the beetroot and double the quantity of chickpeas. Serve with your favourite snacks & nibbles on the side!
Serves: 6
Preparation time: 15 minutes
Cooking time: 45 minutes
2 beetroots
11⁄2 cups cooked chickpeas or 1 can chickpeas, peeled
1⁄2 tsp minced garlic (see page 277)
1 large lemon, juiced 3 tbsp tahini paste
1 tsp paprika powder 1 tsp cumin powder 1⁄4 cup olive oil
Water
Salt
freshly ground black pepper
1.Preheat the oven at 200°C. Wrap the beetroot tightly in foil and roast for about 1 hour. Remove from oven once tender, leave to cool and peel before use (If the beetroot is very large, cut into half or quarters to cook faster ) .
2.In a food processor, add the beetroots, chickpeas, garlic cloves, lemon juice, tahini paste, paprika powder, cumin powder and olive oil, and blend the ingredients until smooth. Add small amounts of water if necessary to thin the paste. Adjust seasoning and add the lemon juice, salt and pepper Serve with a drizzle of olive oil.