Parsnip & Date Molasses Hummus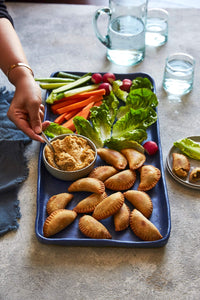 This parsnip and date molasses hummus is a delightful and sweet variation to the traditional chickpea hummus. The parsnips are roasted in the oven to develop a sweet and nutty flavour, then enhanced with sweet date molasses and spiced with cumin seeds. The combinations of these wonderful flavours is simply delicious. We recommend serving it with Zahra's Kitchen beef sambusek on the side.

Serves: 4
Preparation time: 10 minutes
Cooking time: 20 minutes.

Ingredients:
2 cups of cooked chickpeas or 1 can of chickpeas, peeled
2 tbsp. tahini sauce
½ tsp. garlic, minced
½ lemon, juice
3 parsnips, peeled cut into large chunks
Olive Oil
Salt
¼ cup water
1 tbsp. date molasses
1 tsp. cumin
½ tsp. chili
Directions:
Preheat the oven to 200 degrees Celsius.
Place parsnips on a baking sheet, drizzle with olive oil and drizzle with salt and pepper. Roast in the oven for 20 mins.
In a food processor, add roasted parsnips, garlic, chickpea, tahini sauce, lemon juice, date molasses, cumin powder, chili powder, and water; blend ingredients until it has a smooth creamy texture.
Serve on a plate with a drizzle of olive oil. Delicious with vegetable crudités or crackers on the side.