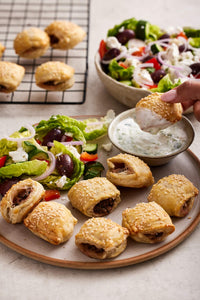 Tzatziki is a wonderful and refreshing dip made with yogurt, drained cucumber, olive oil, fresh herbs (usually mint or dill), garlic, lemon juice and salt. It's a refreshing and delicious dip that can be served with your favourite bread, snack or even grilled meat.  We enjoy serving them with Zahra's Kitchen Lamb Kibbeh balls
Serves: 4
Preparation time: 10 minutes
Ingredients:
2 cups grated cucumber, excess liquid squeezed and drained
1 cup plain Greek yogurt
1/2 cup labneh
2 tablespoons extra-virgin olive oil
2 tablespoons chopped fresh mint and/or dill
1 tablespoon lemon juice
1/2 tsp minced garlic
½ teaspoon fine sea salt
Directions:
In a medium-sized bowl add the yoghurt, labneh, olive oil, herbs, lemon juice, garlic and salt to the bowl, and combine ingredients together. Allow to rest for 5 minutes. Taste and adjust the salt and lemon to suit your taste.
Serve!