Wholesome & Delicious Middle Eastern Cuisine
Family favourite recipes that are handcrafted and made with love
Shop Now
Sharing a piece of our family with yours. Enjoy traditional recipes with a modern twist!
Try our Sampler Bundle, perfect for your next grazing board.
Check it Out
Dedicated to making wholesome food without any fuss
At Zahra's Kitchen we believe in being mindful of how we source, prepare and also package our food. All our recipes are made with real food that are responsibly sourced, they are handcrafted and have no preservatives or additives.
We are committed to be sustainable, environmentally conscious and eco-friendly. Our packaging is made from a biodegradable and plant based by-product of sugarcane which is a nature friendly alternative to paper and plastic.
What Our Customers Think
Our whole family is obsessed with everything from the Zahra's kitchen range! Perfect for lunch boxes and snacks - every item is full of flavour and so authentic. We always make sure we are fully stocked for those last minute guests - it's such a crowd pleaser!
Zahra's frozen yumminess! The one that brings soul to the recipe! Absolutely delicious, practical and so convenient ! As a non- Arab with lots of Palestinian and Lebanese friends, this was my favorite pick .. so easy to cook and truly a great treat!
I am currently based in Dubai and I have tried the Zahra's Kitchen Frozen Food Range. When I went home to Philippines for my short vacation, I brought the Cheese Sambusek, Feta Cheese and Zaatar Roll & Beef Sambusek and introduced it to my family. My mom worked in Saudi Arabia and Dubai for 8 years and she was surprised of how authentic it tastes.
A UAE homegrown food concept!
Dedicated to making wholesome food. If you can't find it in your pantry you won't find it in our meals. All our ingredients are made with real food.
Shop Now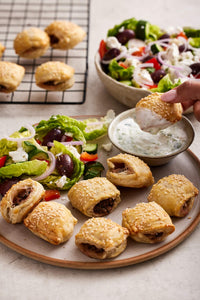 Tzatziki is a wonderful and refreshing dip made with yogurt, drained cucumber, olive oil, fresh herbs (usually mint or dill), garlic, lemon juice a...
Lets Stay Connected!!
We'll drop in with the latest news, exclusive offers and much more